Taking a break from that good marriage…and how to achieve it stuff today.
For more than 30 years now, a red toy poodle has been part of the Ivey household.
It began when our friends Fred and Susan asked us to babysit theirs. Opie came for the weekend while they were on a trip. I thought dogs should be big and live outdoors and kill something if they got hungry…never in the house or on the furniture or, God forbid, on the bed.
I could not have been more wrong. In the period of two and a half days, Opie taught me how to roll and fetch a ball…over and over and over. He curled up next to me on the couch and put his head in my lap. By the end of the weekend he was sleeping peacefully on my arm…in our bed.
I didn't want to give Opie back Sunday night and after a lively discussion Fred and Susan agreed to introduce us to their breeder.
They did and we did and we came home with a red boy of our own the following Friday. Opie surely needed an "Andy" in his life, so Andy it was for 13.5 years. The boys were inseparable for years. Whenever one of them got within a couple of blocks, they began whining and wagging to beat the band…they were the best of buds.
Andy got sick on a Thursday and lost his fight with life on Saturday. We buried him on a friend's country land on Sunday. I do not know any other circumstance where I cried more as I bid farewell to my little pal.
He was so smart, knew a large vocabulary. We didn't house break him, he taught us what we needed to know to care for him. We learned we could no longer use the work COOKIES, because he would run to the cabinet where we kept them. We started spelling the word out C O O K I E S and he learned what that meant also.
On the Monday night after we buried Andy, Barb caught me on the computer in the middle of the night. When she asked me what I was doing, "Busted!" I was searching sites for red poodles.
By Friday that week we drove to Killeen, TX where we met and fell in love with "Tandy." We loved the '…andy' sound and Tandy was Barb's dad and brother's name. So, Tandy it was.
For 16 years and 7 months to the day, this red-headed bundle of love was our constant companion. On the couch, in the bed, under my feet, in the car, begging at the table, always glad to see us when we left and came back. There was nothing more pitiful than watching his ears and eyes and tail fall whenever we told him we'd be back.
When he was about 5 years old we moved to Celina and installed a doggie door in our back door. He learned to love chasing squirrels, and all we had to do was shout, "Squirrel" and boogity-boogity out the door he flew trying to catch one. The squirrels always knew just how far down the fence or the tree they could go to keep him from jumping high enough to catch them. It was a dance we always enjoyed watching
Toward the end of his life, he lost his ability to hear. Barb used to say the last years of Tandy's life his was in assisted living…arthritis and heart meds in blueberry cream cheese every morning. Pet-parent doggie diapers, a diaper pail, foam steps so he could get on the couch, sleeping 18-20 hours a day, up 2-4 times a night to go out and water the grass…until one day his back legs failed.
Took him to the animal hospital and were told he had just worn out. 16 years 7 months from the day he was born he went to The Rainbow Bridge and now he sits in a nice little wooden box on the mantel.
Such fond memories…neither one of our guys ever spent a night in a kennel. Either they went with us or we had a house/dog sitter. Some said, if there was such a thing as reincarnation, they wanted to come back as Barb and Dick's poodle.
Six months came and went and the itch became palpable to adopt another red lad. I am almost 82, and I think one more may last as long as I do. There is just no joy like having a puppy.
We found the one we wanted in Kaufman, TX after a long search. He comes home to his forever home August 6. Names are being bandied about at this writing.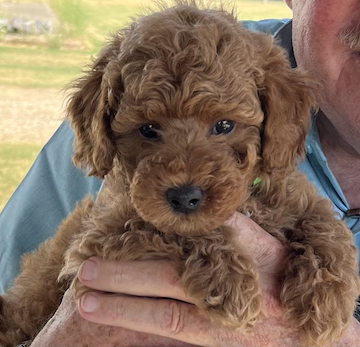 FOOD FOR THOUGHT